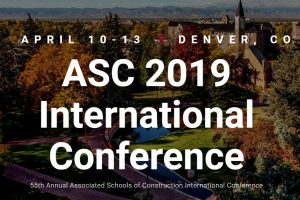 On Friday, April 12th, VERTEX CEO, Bill McConnell, will be presenting at the ASC 2019 International Conference along with Caroline Clevenger, Assistant Director of Construction Engineering and Management at the University of Colorado Denver. Learn more about VERTEX's educational partnership with the University of Colorado Denver.
2019 Theme: The Business of the Built Environment
Join industry professionals who will discuss up-to-date curricula, best teaching practices, and current management models in the construction industry.
Associated Schools of Construction (ASC) is an organization of educators and industry practitioners working together for the development and advancement of construction education. It promotes the sharing of ideas and knowledge and inspires, guides, and promotes excellence in curricula, teaching, research, and service.