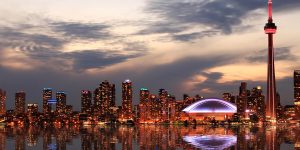 VERTEX has officially established its presence in Canada with the incorporation of a new Canadian company, VTX Consulting Services Inc., and a full-service office in the Toronto area. VERTEX's Canadian operations will be led by Michael Cugino, P.Geo., P.Geol., QPESA who has recently joined the company.
The new office opening was officially announced in conjunction with the Massachusetts-Canada Innovation Partnership Mission led by Massachusetts Governor Deval Patrick and mentioned in his keynote address at the Canada Wind Energy Association (CanWEA) conference, held recently in Toronto.
"With our entrepreneurial ecosystem, Massachusetts is a premiere destination for wind industry innovation and companies like First Wind, Northern Power Systems, Aeronautica and Vertex Environmental who are all here with me today representing Massachusetts. In fact, VERTEX Environmental will be opening an office just outside of Toronto next week."
– Massachusetts Governor, Deval Patrick
In discussing the trade mission and the new office in Canada, VERTEX CEO, Jim O'Brien, was quoted, "VERTEX is excited about our expansion into Canada and we look forward to solidifying our North American capabilities with this new venture."
---
Governor's speech:
http://www.mass.gov/governor/pressoffice/speeches/1009-wind-energy-remarks.html
Governor's press release:
http://www.mass.gov/governor/pressoffice/pressreleases/2013/1009-canada-clean-energy.html
Michael Cugino is Vice President of the VERTEX Companies' operations in Canada (VTX Consulting Services, Inc.). Mr. Cugino holds an Honours B.Sc. degree from the Department of Geology at Brock University and, among other certifications, he is a licensed Professional Geoscientist (P.Geo.) in both Saskatchewan and Ontario and a licensed Professional Geologist (P.Geol.) in Alberta.
With over 27 years of professional experience related to business, energy and environmental management and protection in both the private and public sectors, Mr. Cugino has served clients throughout Canada including the provinces of British Columbia, Alberta, Saskatchewan, Manitoba, Ontario, Quebec, New Brunswick and Nova Scotia and in the United States (New York, Pennsylvania and Maine).
Specific areas of technical specialization include Phase I & II ESAs, UST Management, Solid and Liquid Waste Management, Site Decommissioning, Remedial Investigations/Remedial Design, Site Remediation, Designated Substances Surveys, including mold, Asbestos Surveys and 3Rs Solid Waste Audits. He is also skilled in the provision of third-party peer review and arbitration / litigation support for environmental law firms in Ontario.
Michael Cugino,
P.Geo., P.Geol., QPESA
Principal Geoscientist
Vice President
mcugino@vtxconsulting.com
8750 Holgate Crescent
High Point Business Park
Milton, ON L9T 0K3
Canada
Toll-Free: 888.298.5162