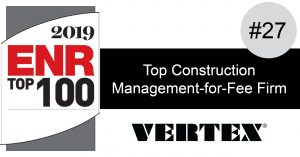 VERTEX is proud to be ranked #27 in ENR's Top 100 Construction Management-for-Fee Firms. Companies are ranked based on total 2018 revenue in $ millions for construction-management or project/program-management services performed as a professional service for a fee.
As reported by ENR, in the current hot industry market, third-party construction and program management firms also are finding new momentum. While some clients are choosing to bring project management in-house, many others, facing labor shortages among their contractors and designers, rising materials prices and effective pushback over risk-shifting, need a more professional approach to project controls and delivery.
To learn more about VERTEX's Construction Contracting & Consulting services or to speak with a Construction Expert, call 888.298.5162 or submit an inquiry.