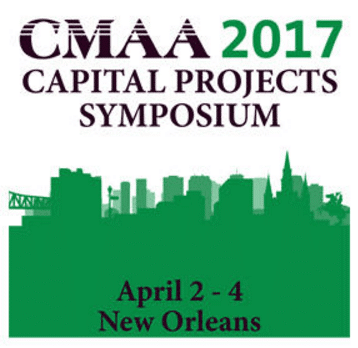 VERTEX is back as speakers at the CMAA's Capital Projects Symposium (April 2 – 4, 2017) in New Orleans, LA.
Capital Projects Symposium 2017 will be a high-level conference exploring the technology, project delivery and innovation in construction management practices. Through expert plenary sessions and focused, practical breakouts (along with ample networking time), attendees will build an understanding of today's technology options, their impact on project delivery and how both owners and service providers are utilizing innovations to increase project success.
Find out more about the CMAA Capital Projects Symposium.
VERTEX will present on: Improving the Effectiveness of Project Schedules Through an Integrated Project Management Approach based on an empirical case study, this session will demonstrate how effective use of an integrated project management approach based on a systematic method of developing project schedules can significantly improve the effectiveness of project planning. Learn strategies for ensuring the full potentials of work breakdown structures realized throughout the entire planning and scheduling process. By demonstrating the achievements made in a real-world project, mechanisms will be identified which will improve the effectiveness of project planning and scheduling.
Speakers
Amin Terouhid, PhD, Senior Project Manager/Consultant, The Vertex Companies
Andrew Sargent, Project Manager, The Vertex Companies