What is Adhered Manufactured Stone Veneer (AMSV)?
Adhered manufactured stone veneer, commonly referred to as AMSV, is a lightweight, non-load bearing masonry cladding that simulates the appearance of natural stone. It is applied very much like stucco in that it is installed on masonry and frame wall assemblies, and can be installed over different types of rigid sheathing, including gypsum, plywood, and oriented strand board (OSB). Like stucco, when installed on framing, it requires two (2) layers of water-resistant barrier (WRB), metal lath secured to the framing with corrosion-resistant fasteners, and a scratch coat. Unlike stucco, the outermost or finish surface consists of the manufactured stone pieces adhered to the scratch coat with a mortar setting bed.
Pictorial view of typical AMSV over wood frame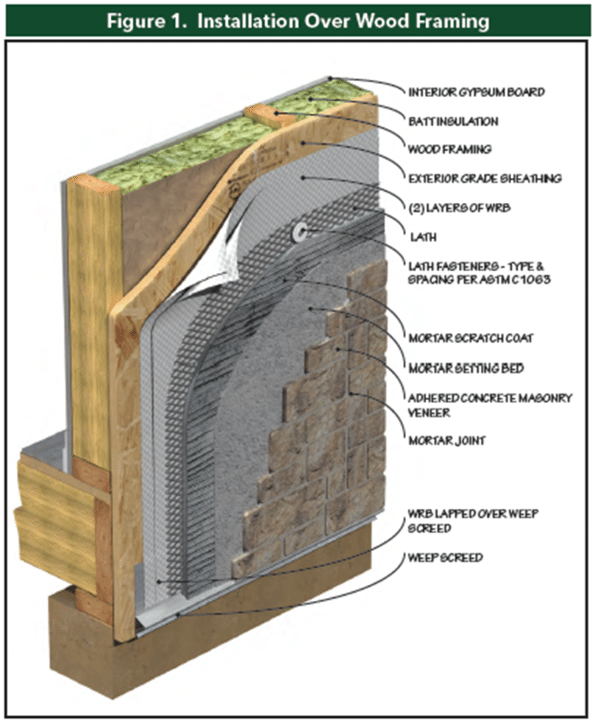 Section of this pictorial view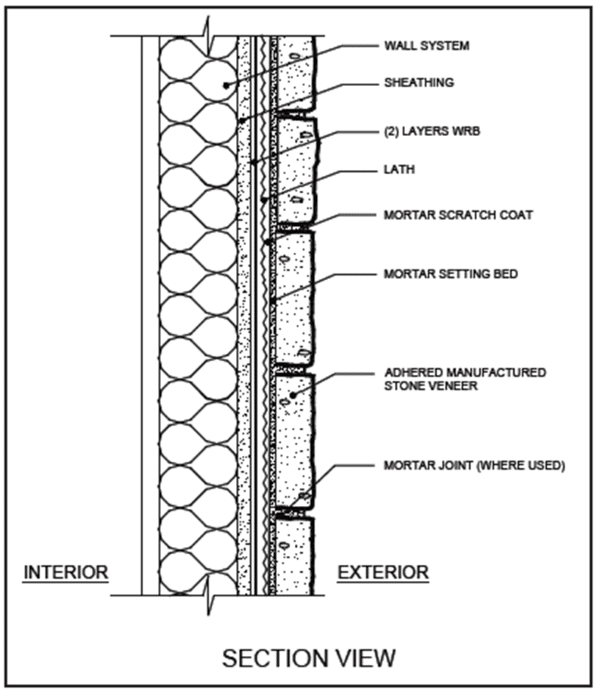 These wall assemblies are common in single-family, and in low and mid-rise residential buildings. As with stucco cladding, it is critically important to note the requirement for two (2) layers of WRB. AMSV, like stucco and brick, is porous. Water that penetrates through the outermost stone and mortar needs to be managed or channeled down and out of the assembly before reaching the underlying sheathing, insulation, and framing. The second layer of WRB is needed because the mortar scratch coat bonds, (although loosely) to the first and outermost layer of WRB leaving no room or space for water to channel down. The space between the first and second layers offers a path for water to travel. This is considered the minimum requirement for water management.
The Importance of Installation Details
As with stucco and brick cladding systems, the WRB needs to be carefully incorporated with flashings and weep screeds in order to create a complete water management system that directs the water that penetrates through the stone down and out to the exterior rather than have it trapped behind the stone.
Experience has demonstrated that failure to follow details can result in water reaching sheathing, insulation, and framing, resulting in rot, mold, and structural failure of framing.
Examples of Failed Adhered Manufactured Stone Veneer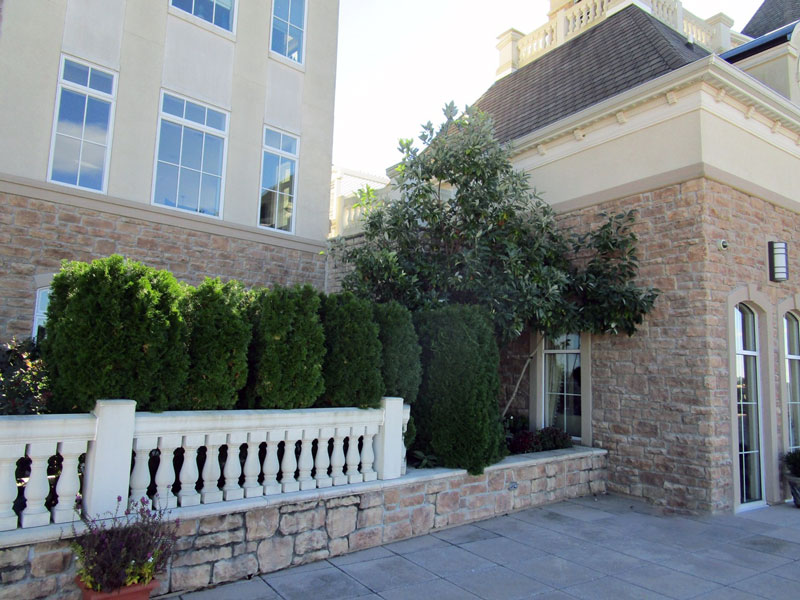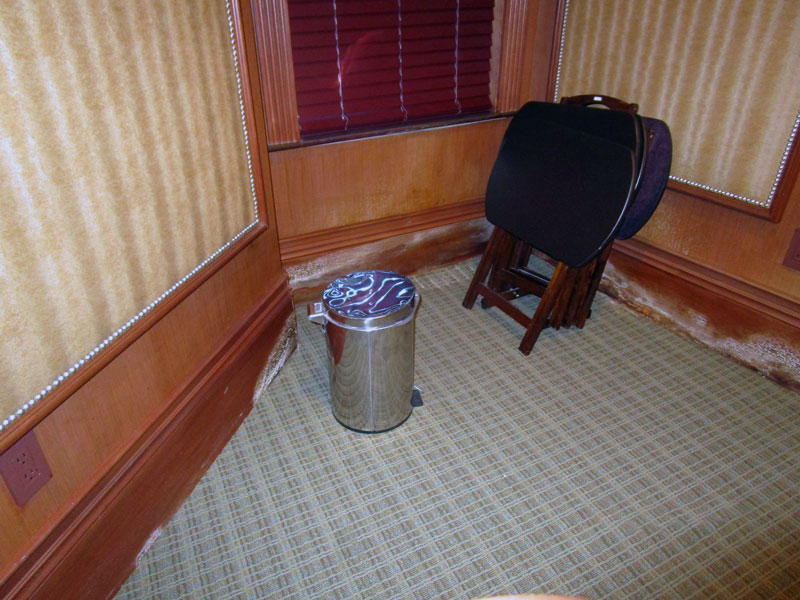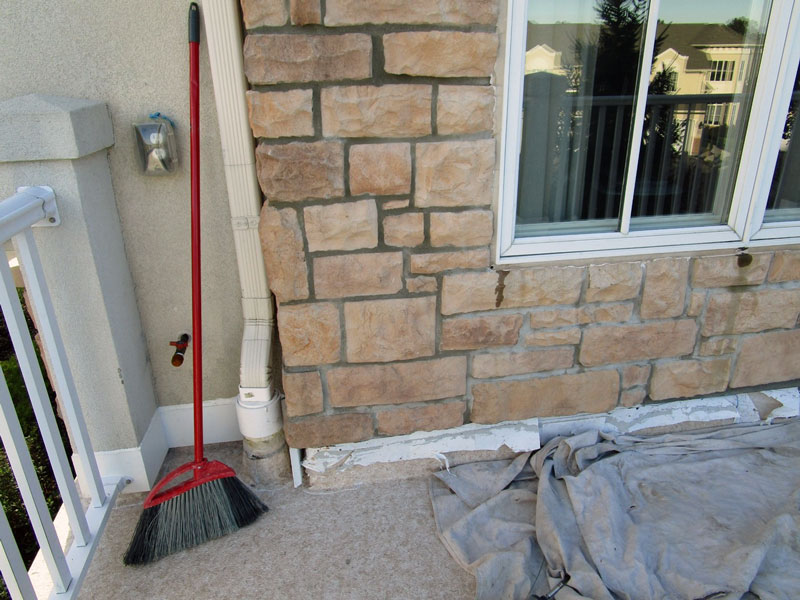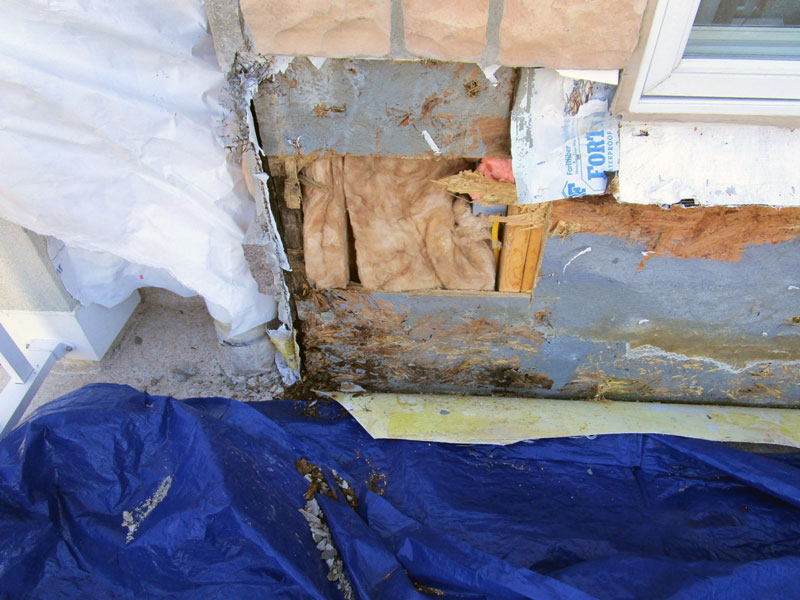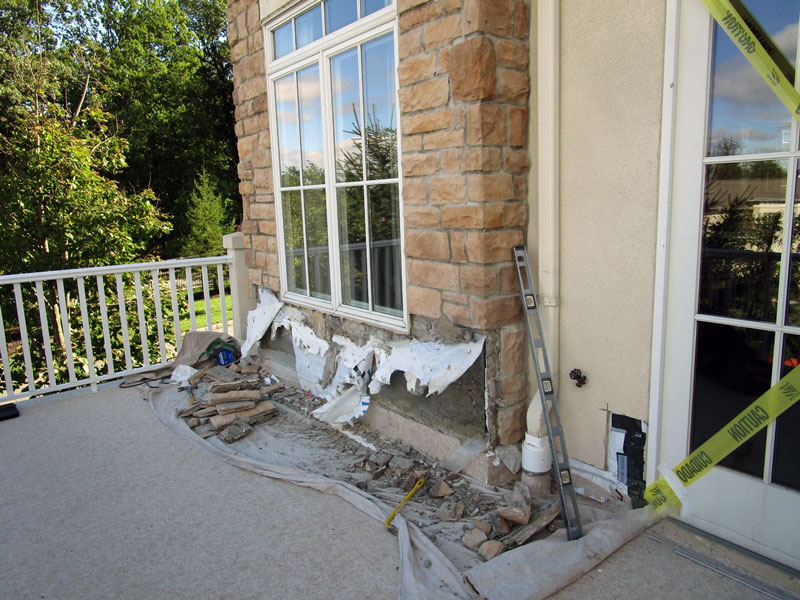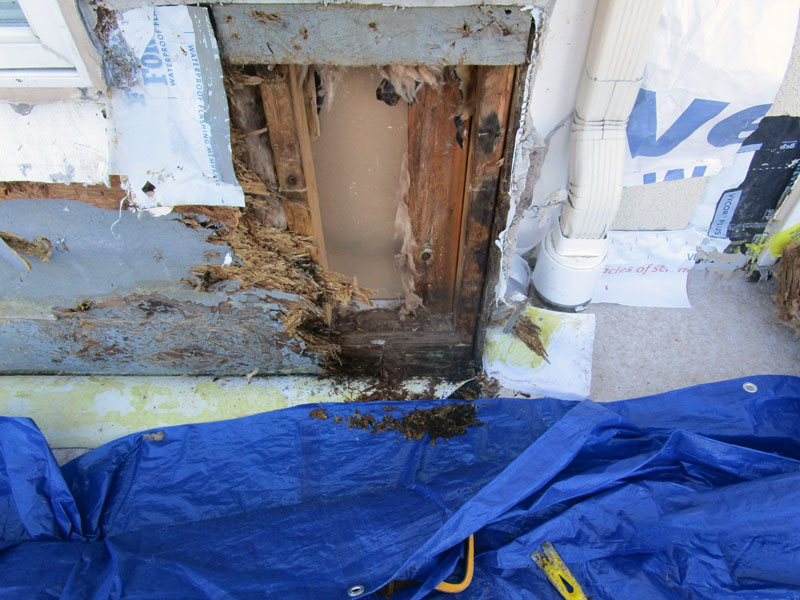 AMSV Investigation and Repair
Moisture intrusion is not always apparent, as it may take months or years after the original construction for issues to appear on interior walls. It is not uncommon for owners or residents to be completely unaware that their walls are wet. Photos 3 through 5 were taken from a townhome where the interior walls showed no evidence of a problem. The issues with the walls were discovered during the course of unrelated repairs.
The problems depicted in all of these photos were the result of incorrect WRB materials and inadequate workmanship and detailing.
How Can VERTEX Help?
VERTEX has experienced design professionals and technicians who are familiar with Building Codes, industry standards, building materials, and installation procedures to ensure building cladding systems, particularly AMSV, are installed properly. If issues arise, VERTEX also has experienced forensic experts who understand the proper forensic procedures and who have access to the equipment necessary to investigate, diagnose, and document issues with AMSV.
To learn more about VERTEX's Forensic Engineering services or to speak with an Engineering Expert, call 888.298.5162 or submit an inquiry.
REFERENCES
Masonry Veneer Manufacturers Association, (MMVA) Installation Guide and Detailing Options for compliance with ASTM C1780.
International Residential Code
International Building Code