The impact of mold on a construction project cannot be overstated. Mold is a type of fungus that grows in damp and warm environments, and it can quickly spread throughout a building. The presence of mold poses a significant risk to the health of the occupants of the building, as well as to the integrity of the structure itself.
In this article, we take a closer look at
mold basics: types, where and why it grows, health and safety concerns
prevention tactics
managing mitigation to reduce the impact on a project and the schedule
Mold Basics
Several different types of mold can grow in buildings, each with its own characteristics and potential health risks. Some common types of mold include:
Aspergillus, Cladosporium, Penicillium and Alternaria: These types of molds are commonly found in damp areas such as bathrooms, kitchens, and basements. They can produce mycotoxins that can cause respiratory problems, especially in people with compromised immune systems. Additionally, they can cause respiratory problems and skin irritation, especially in people with allergies or asthma.
Stachybotrys: Also known as "black mold," this type of mold is often found in areas with high humidity or water damage. It can produce mycotoxins that can cause respiratory problems, headaches and fatigue.
Many other types of mold may grow in buildings and the potential health risks associated with each type varies depending the specific circumstances.
Prevention is Best
The best way to deal with mold is to prevent it from growing in the first place. Prevention measures should be taken during the design and construction phases. This includes ensuring
the building is properly ventilated,
the building envelope is properly sealed and
The HVAC system is properly designed and maintained.
Measures to prevent mold growth include using mold-resistant materials, such as drywall and insulation, and ensuring that any water leaks or spills are cleaned up immediately. It is also important to maintain proper humidity levels in the building, as high humidity can lead to mold growth. Other measures that can be taken to prevent mold growth include using air purifiers and dehumidifiers, as well as regularly cleaning and maintaining the HVAC system.
How Mold May Be Found and What Causes It
Mold can be discovered in various ways. The most apparent way is through a visual inspection, which identifies growth on visible components, such as walls, ceilings or floors (Figs. 1 and 2). This growth is typically caused by a source such as a leaking window or toilet that isn't properly sealed.
There are also times when mold is not visible but can be detected through the existence of a musty or damp smell. In this case, a more invasive investigation may be required. When a building envelope is not properly sealed or roof installed incorrectly, mold can grow slowly with a significant impact on the building system, particularly in damp climates such as the Southeast or Pacific Northwest.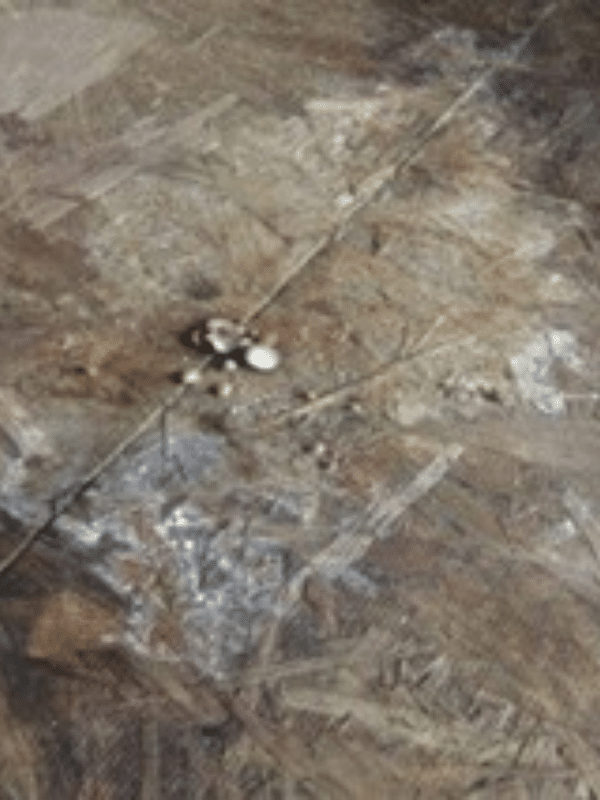 Fig 1 Growth found on OSB flooring during construction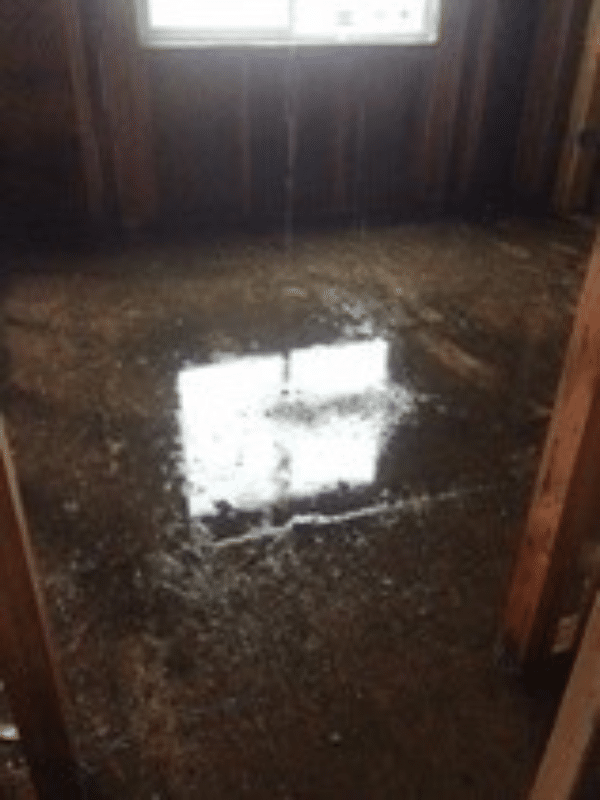 Fig. 2 Water falling and pooling on lower floors due to failing roof.
Once identified, a third-party professional should be called in to assess the situation and provide guidance on proper remediation solutions. (Fig. 3)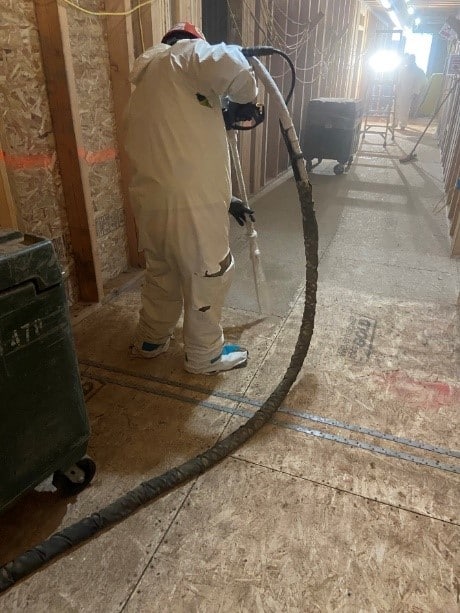 Fig. 3 Ice blasting is used as a form of mold mitigation.
An Important Balance: Keeping the Project Moving and Mitigating the Mold
Once the cause of the mold growth has been identified, a mitigation plan must be put in place. Ideally, this plan will run alongside the construction schedule with little to no impact on the project. However, this is not always possible. Minimizing damages, cost and the impact on the schedule and property is a significant part of dealing with mold on a project. Having a professional on board to create this plan and extensively review the affected areas is key to minimizing project damage. This process can be extensive if the discovery and cause phase is ignored or delayed.
The impact of mold on a construction project can vary widely depending on the approach and results of the first two phases (discovery/cause analysis and mitigation). In some cases, an analysis of the project schedule and the mitigation plan will need to be done to determine the best solution. Options may include:
halting construction and mitigating all areas at once
managing the mitigation around the project schedule
creating a new schedule that includes both mitigation and construction.
The most important factor is to cause as little delay and cost to the project as possible.
With a sensitive subject like mold, documentation is key to the process. Being able to move past the affected areas and be confident in construction progress is crucial. Reports will need to be generated to put contractors and developers at ease. A clear mitigation plan and how it will be executed is the easiest way to successfully minimize delay on the project.
Reducing the Impact on the Schedule: Move Quickly to Mitigation
Mold growth can cause delays in construction and increase the overall cost of the project. The discovery and remediation of mold can take time, particularly if the mold has spread extensively or if the underlying cause is not immediately apparent. A third-party professional will need to be brought in to properly assess the situation and provide guidance on the proper remediation solutions. This assessment process can take several days or even weeks, depending on the extent of the mold growth and the complexity of the situation.
Once the cause of the mold growth has been identified and the mitigation plan has been developed, the remediation process can also take time. The length of time for the remediation process will depend on the extent of the mold growth and the complexity of the situation. In some cases, the affected area may need to be closed off and sealed during the remediation process, which can impact the project schedule and delay construction activities. (Figs. 4 and 5)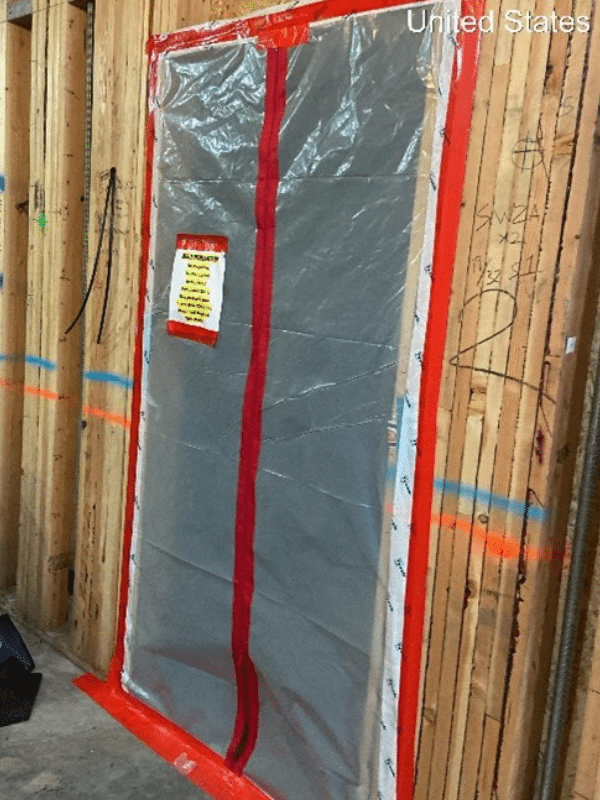 Fig.4 Containment used for health and safety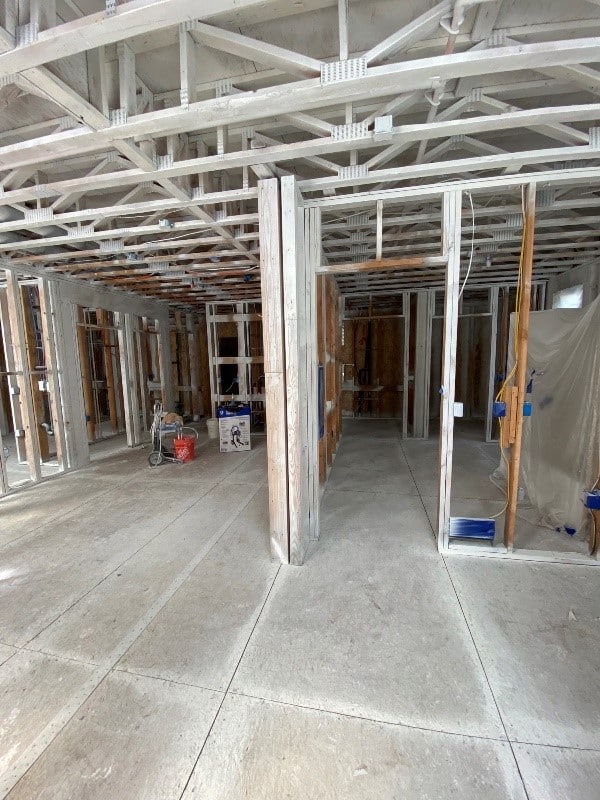 Fig. 5 Encapsulation product used to prevent future mold growth
The impact of mold on the project schedule can also depend on the approach taken to the remediation process. In some instances, it may be necessary to halt construction and mitigate all areas at once to effectively address the mold growth. In other cases, it may be possible to manage the mitigation around the project schedule or create a new schedule with both mitigation and construction activities. (Fig. 6)
Overall, the impact of mold on the project schedule will depend on a variety of factors, including.
the severity of the mold growth
the underlying cause
the extent of the affected areas
the approach taken to remediation.
It's important to address mold growth as soon as it is identified to minimize its impact on the project schedule and keep the project moving forward.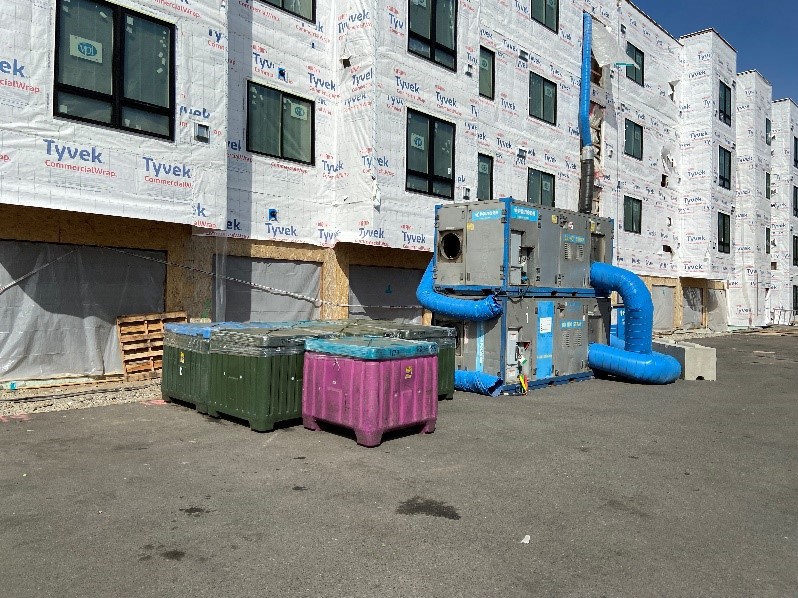 Fig. 6 Dehumidification equipment set up months earlier than scheduled to assist in drying the building to fight potential further growth during mitigation.
In conclusion, mold can have a significant impact on a construction project, both in terms of health & safety and the project itself. It is essential to take steps to prevent its growth and mitigate its impact. A thorough investigation, proper mitigation plan and clear documentation are essential to minimizing the impact of mold on a construction project. By being proactive in preventing mold growth and having a plan in place to address mold if it is discovered, construction teams can ensure that projects are completed successfully while prioritizing the health and safety of all involved.
For more information on project management, contact David Gorman (dgorman@vertexeng.com) or send an email to info@vertexeng.com.
To learn more about VERTEX's Environmental Claims Consulting services or to speak with an Environmental Expert, call 888.298.5162 or submit an inquiry.