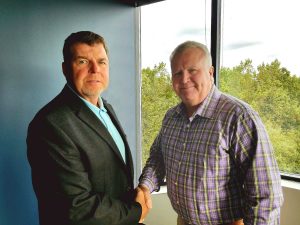 The Vertex Companies, Inc. (VERTEX) is pleased to announce the acquisition of Compliance Environmental International, Inc. (CEI). The agreement was signed in the presence of senior leadership of both organizations including Archie Barrett, President and Owner of CEI; Jaron Frieden, Managing Director of VERTEX; Michael Plainte, Vice President of VERTEX's Industrial Hygiene & Building Sciences Division; and Erik Borgesen, CMC, Executive Vice President of VERTEX.
CEI was established in 1993 as a full-service industrial hygiene and environmental consulting firm. Located in Baltimore (Glen Burnie), Maryland, CEI provides a full range of occupational compliance services, with a specialization in serving healthcare facility management providers.
"We are excited to have CEI's extremely talented team join the VERTEX family. VERTEX recognizes the growth of the healthcare sector over the past decade and has been committed to growing our service offerings and market share in this arena," said Jaron Frieden, Managing Director of VERTEX. "The addition of CEI provides an exceptional opportunity for both CEI and VERTEX to serve our national clients and continue our exponential growth across our diversified service lines."
Archie Barrett added, "The staff and I at CEI are enthusiastic to join the VERTEX team. CEI provides a full range of occupational exposure compliance, indoor air quality, risk assessments, environmental infection control, and environment of care consulting services with a specialization in serving healthcare facilities. We feel strongly that VERTEX will continue to grow our core business of healthcare consulting services and continue to be responsive to our current and future client base. We are looking forward to the future with VERTEX."
CEI was founded on and is devoted to the theory that customer service is fundamental to the success of its business. The majority of CEI's business is generated from recurring clients and through referrals, a testament to their reputation for excellence in the industry.
Michael Plainte of VERTEX said, "Archie Barrett and his staff at CEI have been well respected for over 25 years in the Mid-Atlantic Region. We look forward to combining our local resources with CEI and diversifying our available services to enhance our Client's experience, both in the Mid-Atlantic and nationally."
About VERTEX
VERTEX is a fast-growth AEC firm that delivers integrated Forensic, Engineering, Construction, Environmental, and Digital solutions on complex projects that span the globe. Founded in 1995, VERTEX has grown by nearly 30% year-over-year since its inception.
To learn more about VERTEX's Environmental Consulting services or to speak with one of our experts, call 888.298.5162 or submit an inquiry.