VERTEX is thrilled to announce that the company has been selected by the prestigious University of California San Diego (UCSD) to provide Building Envelope Consulting and Balcony Inspection services. This partnership underscores our commitment to delivering exceptional AEC solutions and underscores our reputation as a trusted leader in the industry.
Waterproofing Testing and Inspection Services for Ridge Walk North Living & Learning Neighborhood
VERTEX's Building Envelope team is well acquainted with UCSD, having provided roofing and waterproofing inspections for the construction of east campus' graduate student housing (Mesa Nueva, Nuevo West, Nuevo East). Awarded the contract on June 21st, we are grateful to return and collaborate on UCSD's newest major construction project, the Ridge Walk North Living & Learning Neighborhood.
The Ridge Walk North Living and Learning Neighborhood project is a 4-building mixed-use project that is approximately 934,000 square feet with over 2,400 new beds for undergraduate students, including student dining, wellness programming, study lounges, co-working spaces, housing and offices for residential life staff, general assignment classrooms and other academic space.
VERTEX is providing Waterproofing Testing and Inspection Services for this transformative project. As part of our commitment to excellence, our team wasted no time and began working diligently in late July to ensure the project's success.
Along with our recent work at UC Irvine, VERTEX is proud to provide QA/QC solutions to protect the integrity of structures for the UC system in southern California.
Elevating Campus Safety: SB 721 Balcony Inspection Services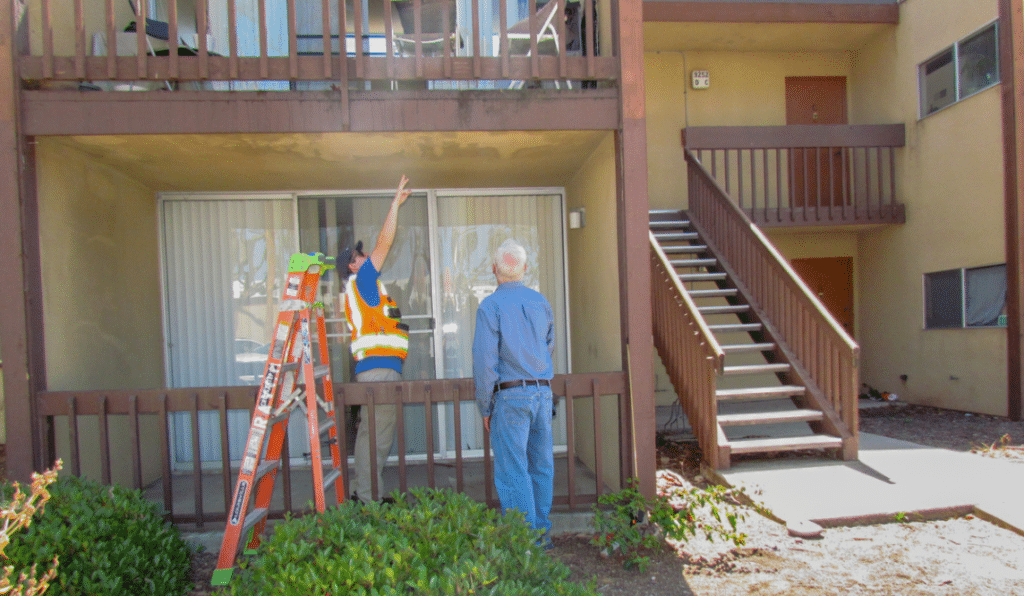 In addition to our involvement in the Ridge Walk North project, we are honored to have been selected by UCSD to conduct SB 721 Balcony Inspections across the campus' student housing facilities. Awarded the contract on June 27th, this undertaking demonstrates VERTEX's dedication to maintaining and improving the safety of living spaces.
As some of us my remember, the Berkley Balcony Collapse was a tragic event that occurred during a party involving local and foreign exchange college students. Our team's thorough inspections will play a pivotal role in ensuring the structural soundness of the campus' Exterior Elevated Elements and well-being of the students staying at the university.
Looking Forward
It's no secret that California is facing a housing shortage and that some students coming to UC San Diego and other campuses have faced challenges getting a room and are on waitlists. While VERTEX's teams roles are focused on the quality of the construction & safety of existing units, we are honored to be entrusted with these responsibilities and are excited to contribute to the growth and sustainability of the UCSD community.
As we embark on this journey serving UC San Diego, we are committed to upholding our mission in bettering outcomes, operating with a constant sense of urgency and maximizing the value we deliver. Stay tuned for more updates on these projects as we continue to make strides in AEC excellence and reinforce our position as a leader in the industry. We look forward to the positive outcomes that will undoubtedly emerge from this exciting collaboration.