Acquisition Expands Suite of Forensics and Expert Witness Solutions and Augments North American Presence
We are pleased to announce the acquisition of Breakwater Forensics, LLC ("Breakwater"), a highly respected expert witness and business consulting firm. This partnership expands our bench of technical experts and extends its forensic consulting and expert testimony capabilities.
"Today, we celebrate a significant milestone as we welcome Breakwater to the VERTEX team, and we congratulate the owners on the exceptional business they have built," stated VERTEX CEO, Bill McConnell. "This partnership marks the beginning of an exciting journey together as we combine our expert services, office platform and mutual dedication to bettering outcomes for our clients, colleagues and communities."
Breakwater Forensics is a full-service expert witness and business consulting firm that is well-regarded for experts in damages, scheduling and government contracts. Breakwater's team brings decades of consulting and testifying experience and its staff includes Professional Engineers, Certified Public Accountants, Certified Fraud Examiners and professionals experienced in analyzing complex issues and providing meaningful analysis and opinions on challenging assignments.
"Breakwater augments VERTEX's team perfectly," said Nathan Brown, Managing Director at Wind Point. "Strengthening our forensics presence and expert bench are key steps within the VERTEX value creation plan. The Breakwater team has created an outstanding business, and this combination comes with great upside for VERTEX, Breakwater and our collective customers and employees."
In a joint statement, Diana Minchella, Managing Director of Vertex's Claims, Disputes and Forensics Department and Jeff Katz, Executive Vice President of the Contract Claims group noted, "We are excited to welcome the Breakwater team to VERTEX. Our teams have already worked together, and we know the excellent caliber of people and work product that Breakwater offers. This partnership furthers our commitment to working seamlessly on client matters and to providing our clients with the best possible services."
VERTEX's multi-disciplined professional services, North American office footprint, and commitment to quality, value, and continuous growth opportunities make us an excellent fit for Breakwater. Breakwater and its clients will have direct access to our resources and suite of specialized services. In a joint statement, Co-Founders, Joseph Egan and Neil Miltonberger explained, "With VERTEX, our team will continue to bring the technical excellence our clients have come to rely on while expanding the breadth of our services." Co-Founders, Sashi Mahtani and Dayna Anderson elaborated by saying, "We are extremely excited to join the VERTEX family; the move adds significant value to both our clients and employees."
VERTEX will continue seeking acquisitions that add exceptional talent, complementary employee-focused cultures and a deep commitment to clients. Jeff Picard, Chief Strategy Officer of Vertex said, "The addition of the amazing team at Breakwater represents our continued commitment to add value for our clients and create opportunities for our employees. We have been fortunate to have a partner in Wind Point that shares our vision and growth strategy, as we continue to expand as an industry leader."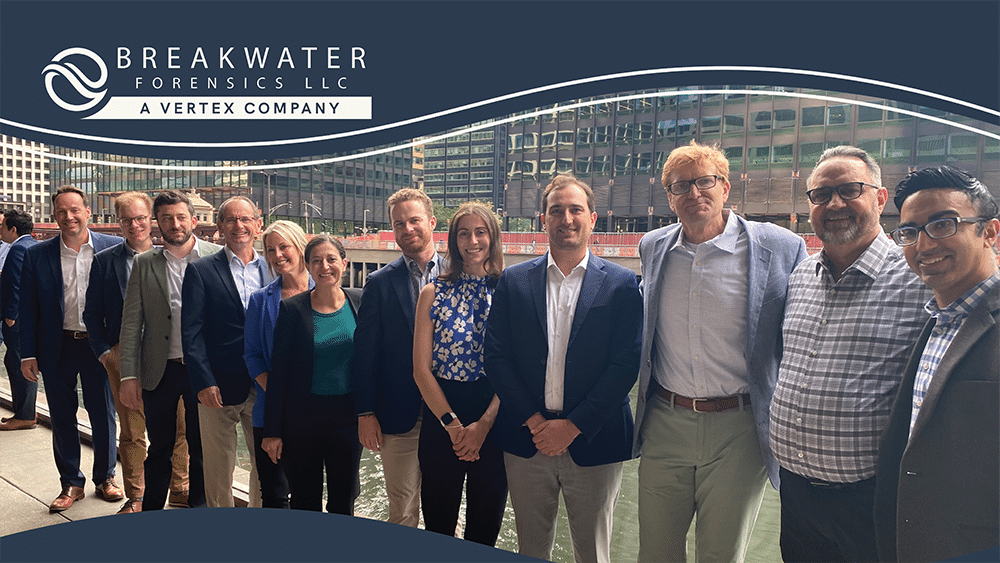 More About Breakwater Forensics
Established in 2019 and headquartered in Chicago, IL, Breakwater's areas of expertise include commercial damages, forensic accounting, fraud investigations, business valuations, government contracts, construction contract claims (delay and disruption), intellectual property and insurance. Breakwater provides these services across numerous industries, including public contracts, commercial developments, infrastructure, oil and gas, renewable energy, and power generation. Additional information about Breakwater is available at www.breakwaterforensics.com.
More About Wind Point Partners
Wind Point Partners is a Chicago-based private equity investment firm with approximately $4 billion in assets under management. Wind Point focuses on partnering with top caliber management teams to acquire well-positioned middle market businesses where it can establish a clear path to value creation. The firm targets investments in the consumer products, industrial products and business services sectors. Additional information about Wind Point is available at www.windpointpartners.com