We are thrilled to announce that VERTEX has been ranked again as a top design firm in Engineer News Record's (ENR) Top 500 Design Firms for 2023! This year we moved up 31 spots to #335 for 2023. We are honored with this recognition, as ENR ranks only the top 1% of the largest AEC firms in the United States.
At VERTEX, we take pride in our expertise in the areas of construction management and environmental services, and we have been ranked by ENR for over a decade in these categories. Our dedication and commitment to excellence have been recognized once again, and we could not be more honored to receive this prestigious award.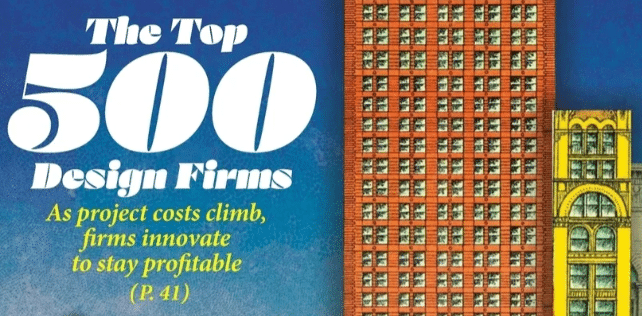 ENR has a long history dating back to 1874 and is dedicated to bringing together a cohesive depiction of the massive and jumbled construction industry for community members in the AEC industry. The annual listing of the Top 500 Design Firms, which is published every April, ranks the 500 largest U.S.-based design firms, both publicly and privately held, based on design-specific revenue.
ENR's top ranking lists are designed to provide a comprehensive view of the construction industry and its key segments. They achieve this by conducting annual surveys of its key segments and ranking companies engaged in general contracting, specialty contracting, engineering, architecture, and environmental services, among other specialties. The rankings are based on annual revenue at home and abroad and are further divided into specific market categories, breaking down each firm type and its specific vertical contributions to the industry.
Moreover, the 2023 ENR publication also examines the competitive measures that the top firms deployed in response to inflation, staffing, supply shortages, and schedule delays, providing valuable insights into industry trends and best practices.
If you would like to learn more about VERTEX's awards and accolades, please visit our website or get in touch with us directly. We are committed to providing exceptional services to our clients and strive to exceed expectations at every opportunity. Thank you for your continued support and trust in VERTEX!