The Reunion Rehabilitation Hospital involves the construction of a new rehabilitation hospital and related site improvements, located in Plano, Texas. The 2.5-acre project site is undisturbed vegetated land, bounded by a 4-story apartment building community to the north, public roadway Mapleshade Lane to the east, President George Bush Turnpike (state Highway 190) to the south, and undisturbed vegetated land to the west.
The new construction will consist of a 3-story, 55,617 sq ft rehabilitation hospital with 48 in-patient rooms. VERTEX will be making one site visit per month, including attendance at a monthly Owners/Architect/Construction (OAC) meeting, while delivering a report following the receipt of the certified Payment Application package.
This is one of three other similar projects under construction in Peoria, AZ; Arlington TX; and Jacksonville, FL with construction services provided by VERTEX. All four started in 2021 with the completion date by June 2023.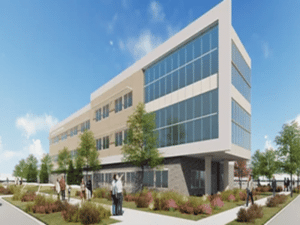 To learn more about VERTEX's Construction services or to speak with a Construction Expert, call 888.298.5162 or submit an inquiry.