William J. McConnell PE, JD, MSCE, CDT, Chief Executive Officer of VERTEX, Presents his Annual Assessment of the US Economy, Construction and Surety Industries
As our valued customers, we want to share it with you.
S P O I L E R  A L E R T
The US market is in its 99th month of expansion as of September of 2017, which makes it the third longest economic expansion in US history. The only longer expansions took place from Feb-1961 to Dec-1969 (106 months) and from Mar-1991 to Mar-2001 (120 months). Moreover, construction put-in-place revenue in the US has topped the $1.2 trillion mark and construction growth is outpacing nominal GDP growth by a wide margin. That said, the US economy and US construction industry are overdue for a correction of some sort, which economists believe will take place on or about 2019. While economic data has been overwhelmingly favorable, as have surety loss ratios, growth in the construction industry has been limited to private sector expansion. Public sector construction has been flat for a decade, and demand is pent up.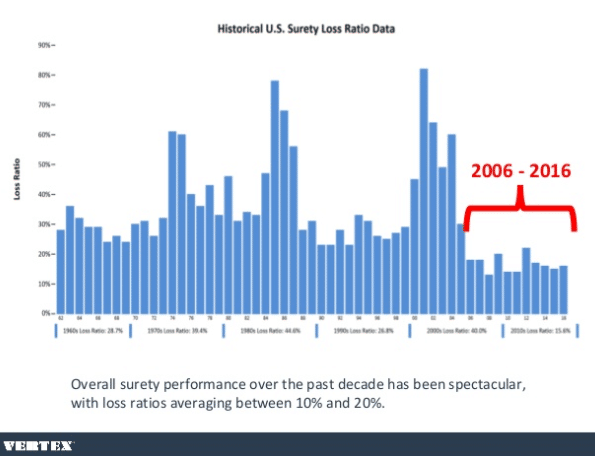 But if you really want to geek out, check out the full presentation. Gain insights into what shapes the industry and understand the top risks that face contract surety providers. You'll be ready for conversation around the water cooler if nothing else.